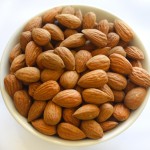 Unpasteurized Almonds -Italian 7 Oz (Transition Nutrition)
Our Italian Almonds are farm sourced and harvested by hand. Their live enzymes are intact and fully bio-available after soaking. Almonds are gluten-free, low in sugars, rich in Vitamin E, antioxidants and high in insoluble fiber. Uses: fresh live almond milk, snack and trail mix, baking, raw deserts and nut cheese.
QUESTIONS & ANSWERS
Have a Question?
Be the first to ask a question about this.
Ask a Question