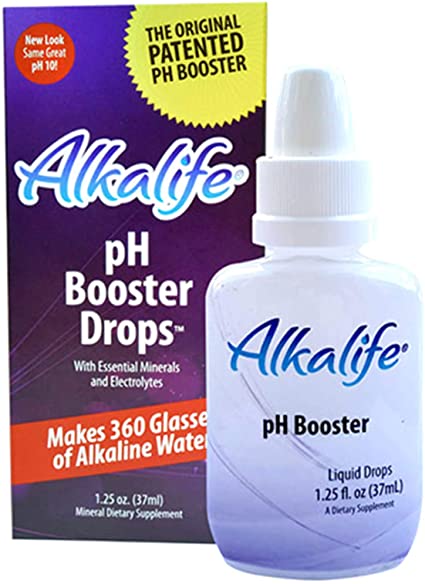 Alkalife 1.25 fl oz - pH Booster Drops - makes 360 glasses of Alkaline water
Information from Alkalife:
Our pH Booster Drops feature a straight forward formulation that incorporates two essential ingredients. As its name implies, these compounds helps "boost" the drinking water's pH level!
Patented ingredients are: Ionized water, Potassium and Sodium Minerals in Hydroxide form (in a proper and healthy ratio of the two minerals).
AlkaLife® comes in a 1.2 oz bottle and lasts approximately 2 months when consumed 15 drops a day

The Alkaline Booster Alkalife is a patented water additive AlkaLife is a patented alkaline concentrate. Mixing 2 drops of AlkaLife solution in an 8-oz. glass of water changes the ordinary drinking water to high pH alkaline drinking water. For maximum health benefits, 5 glasses of high pH alkaline water a day distributed as evenly as possible.  A 1.2 oz. bottle is convenient for carrying in a pocket or purse, and enables you to drink alkaline water anytime and anywhere.
QUESTIONS & ANSWERS
Have a Question?
Be the first to ask a question about this.
Ask a Question