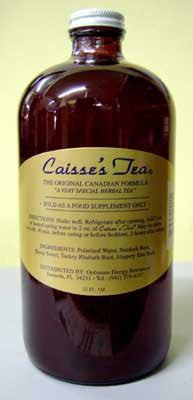 Cassie's Tea Liquid 32 oz
Caisse's Tea is the original preparation (Burdock Root, Sheep Sorrel, Turkey Rhubarb Root and Slippery Elm Bark) that is quickly becoming a favorite among Alternative Health Care Professionals throughout the world. Its history dates back over 100 years through its use by Native Herbalists. Originally prepared by the Ojibway Indians, the formula was reported to have been used in an effort to restore strength, harmony and overall well being as part of their tribal tradition.
A few reviews posted on Amazon;
"This is the real thing. In 1999 I was diagnosed with stage 4 malignant Melanoma with two to four weeks to live, I found out about this from the Indians in Taos Nm and ordered it and took it for 3 months. I checked myself back into the hospital and found out that my cancer was gone and has never came back. Not everything works for everybody but it is worth a try if you are battling cancer."
"Have been purchasing this tea for my husband who is fighting kidney cancer for the second time. He really notices a difference in his overall energy and well being feeling when he takes this, as when he runs out he can tell. Will continue purchasing. Best deal i have found on this tea and believe me i have been studying alot on teas and natural herbs."
How do u take this

It is recommended to "drink 1 fluid ounce/30ml Essiac once daily, diluted with 2 fluid ounces/60ml of hot water.  This should be sipped (like any hot tea), preferably before bedtime and at least two hours after eating.  Food should not be eaten within one hour of drinking the tea."