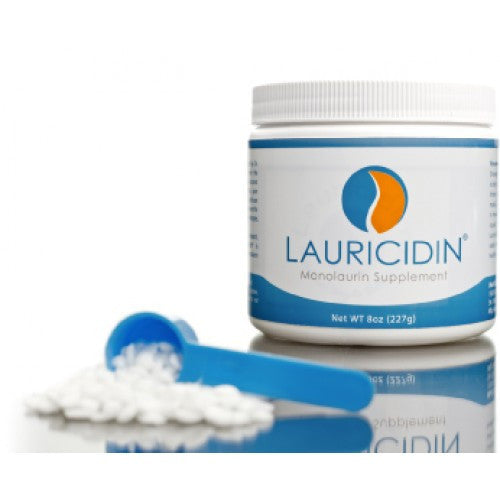 Lauricidin Monolaurin Supplement
Health Professional recommended and 100% nontoxic, Lauricidin® boosts immunity defense, supports healthy balance of gut bacteria, and maintains healthy yeast levels. This immunity boosting supplement is also commonly used by health care practitioners to treat bacterial, viral, and fungal infections.
Lauricidin® is pure sn-1 Monolaurin, a highly purified lipid extract derived from coconut oil that offers unique healing properties. It's made of the same Monolurin that is found in mother's milk and is known as one of nature's first antibiotics!
Why Lauricidin?
- Compatible with other medication - It can be taken with most other supplements and medications. Be sure to check with your healthcare provider.

- Natural and Pure - Lauricidin® is 95%+ pure monolaurin backed by years of research and free from additives, preservatives and fillers found in other brands.

- Inexpensive and Effective - Monolaurin capsules are more expensive per dose or serving size as they may only contain 40-50% monolaurin.

- Global Stamp of Approval - Health professionals all around the world recommend Lauricidin.

Suggested Use
We recommend simply washing down the Lauricidin® pellets with cool water or juice which is associated with little to no taste. Take ¼ - 1 teaspoon of Lauricidin® 2 to 3 times daily for at least 3-6 months to support general immune health and overall wellness.
QUESTIONS & ANSWERS
Have a Question?
Be the first to ask a question about this.
Ask a Question