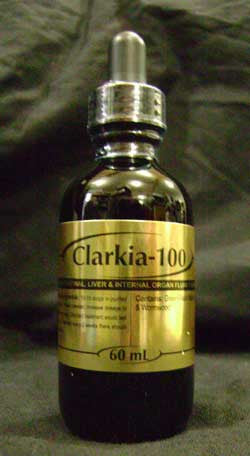 Clarkia 100 - 2oz Herbal Tonic - Barlow Herbal
Intestinal & Liver Formula

The powers of Black Walnut Hulls and Wormwood (Artemisia) are well known to alternative practitioners.
Now - for the first time - we introduce Clarkia-100. It is a unique handcrafted herbal tincture combining
Green & Black Walnut Hulls, Wormwood, and fresh ground Cloves.
Clarkia-100 is a formula containing three key herbs.
The combination of these three ingredients will kill both the egg and adult stages of many
internal parasites including amoebas, giardia, worms, and liver flukes
(which are attributed as a cause of serious illness in many people who are unaware that they are infested).

The real secret of this formula is the use of the Dark Green Hull surrounding the Black Walnut,
which is utilized within a short time after harvesting (before it turns black, at which time it loses its potency).
The Clove used in Clarkia-100 is freshly ground and immediately added to the tincture, because exposure
to air evaporates the desired properties, which are preserved in the liquid tincture.

Clarkia-100 is handmade in small batches in the Southwest USA.
One 2 oz bottle contains 1200 drops, enough for 15-30 days as recommended dosage levels.

Ingredients: Green/Black Walnut Hulls, Louisiana and Western Wormwood,
Fresh Cloves, extracted into grain alcohol.

Dosage: Start at 10-15 drops in purified water every 3 hours.
If well tolerated, increase dose to 20-25 drops before each meal.
QUESTIONS & ANSWERS
Have a Question?
Be the first to ask a question about this.
Ask a Question