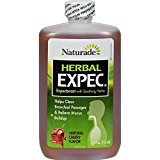 Herbal Expec (Naturade) 4.2 oz
Expectorant (EXPEC) with Guafenesin
Helps Clear Bronchial Passages*
Enhances Cough Productivity*
May reduce Cough Intensity*
Stock up for the unexpected with a larger 8.8 fl oz bottle
Naturade Herbal Expec® with Guaifenesin supports your recovery.
Don't let excessive congestion and an uncontrolled cough limit your enjoyment, productivity and quality of sleep.  Choose Naturade Herbal Expec® to advance your recovery.  Guaifenesin, the key ingredient in Herbal Expec®, has been breaking-up congestion, clearing out excess mucus, and controlling coughs for generations.   The specialized action relieves mucus buildup and makes nonproductive coughs more productive and less frequent – allowing you to focus on what is important.*
Naturade Herbal Expec® provides soothing relief you can really feel.  We include naturally soothing herbs like cocillana bark, red clover, and rose hips to calm and comfort throughout your recover.*
Attack your cough and congestion with Naturade Herbal EXPEC®!
Directions:  Do not exceed 6 doses in a 24 hour period.
QUESTIONS & ANSWERS
Have a Question?
Be the first to ask a question about this.
Ask a Question