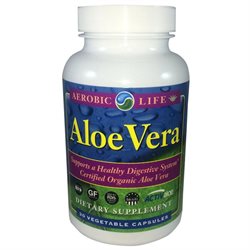 Desert Delight Aloe Vera Softgels (Aerobic Life) 30 gels
It is becoming increasingly difficult to find the time for a healthy lifestyle amidst all of the hustle and bussle of daily demands. Many of us are looking for the least time-consuming and simplest way to maintain a balance in our lives--including proper health maintenance and prevention.

NOW... Consumers can get all of the healing benefits of Aloe Vera in the convenience of a capsule! Just pop the top and enjoy the limitless uses of our Aloe Capsules. Aerobic Life's Aloe Capsules can be taken internally or can be used to form a topical gel. Case size - 12 bottles of 30 count 600 mg. capsules. Aloe Vera has been used for thousands of years as a natural healing agent and as we all know... HISTORY DOES NOT LIE.
We however want to make it a little more convenient than it has been in the past. The Desert Delight Aloe Capsules are made from the finest Aloe Vera which is 100% Certified Organic. Our Aloe Capsules can be used alone as an aid in digestion, as a healing agent for digestive problems, or for the healing of skin abrasions and irritations. Our Aloe Capsules can also be used with the Aerobic 10-Day Colon Cleanse Kit in place of the Aloe Vera Juice-- Reduce the freight costs.
Improve taste-For those not accustomed to the taste of liquid aloe vera or simply do not like the taste or consistency.
Improve convenience-For those on the go who do not have the time to drink a full glass of aloe juice or those who want to carry aloe with them-just in case. Because we all know--Accidents do happen. Carry a few capsules in your purse or bag.
QUESTIONS & ANSWERS
Have a Question?
Be the first to ask a question about this.
Ask a Question