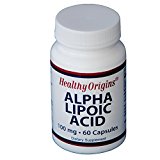 ALPHA LIPOIC ACID 100mg (Healthy Origins) 60 Caps
An antioxidant, Alpha Lipoic Acid is found naturally inside every cell in the body. In the cell it helps convert glucose into energy. Alpha Lipoic Acid helps neutralize potentially harmful free radicals.
Alpha Lipoic Acid is unique because it functions in both water and fat unlike more common antioxidants Vitamin C and E. Alpha Lipoic Acid may also help increase the formation of Glutathione.
Helps neutralize free radicals
Helps recycle Vitamin C and Vitamin E
Helps maintain healthy blood sugar levels when used as part of a diet
Non-GMO
QUESTIONS & ANSWERS
Have a Question?
Be the first to ask a question about this.
Ask a Question