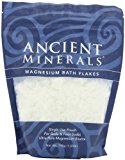 Magnesium Flakes (Ancient Minerals) 1.65 lbs
Dissolved in warm water, our magnesium chloride flakes provide the user with a medicinal bath of cell-restoring highly soluble magnesium chloride.
Soaking in magnesium salts has been shown to markedly improve skin hydration, speed wound healing, enhance skin barrier function, and decrease inflammation.
One cup contains approximately 15 g elemental magnesium.
Ancient Minerals Magnesium Chloride Flakes are:
Ideal for children and other sensitive individuals
Effective for stress relief and relaxation
Great for soaking achy muscles and joints
Highly therapeutic for psoriasis, eczema, and other skin conditions
Able to deliver extensive topical and cosmetic benefits
Available in 1.65 lb (.75 kg), 4.4 lb (2 kg) and 8 lb (3.6 kg)
QUESTIONS & ANSWERS
Have a Question?
Be the first to ask a question about this.
Ask a Question