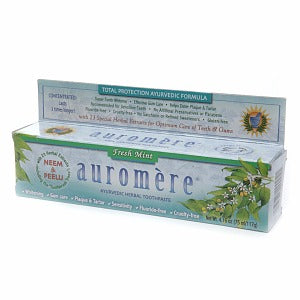 Auromere Toothpaste - Fresh Mint 4.16 oz
Herbal Toothpaste Auromere's highly effective line of Ayurvedic toothpaste combines the natural tooth-whitening fiber PEELU with the astringent and invigorating properties of NEEM View Full Details.
Ingredients: Fine Chalk (a gentle cleanser) Glycerine (from rice bran oil) Water Herbal extract blend: [Peelu (Salvadora persica) Neem (Azadirachta indica) Indian Licorice root Pomegranate rind Commom Jujube Rose Apple Clove Persian Walnut Barleria prinoitis bark (Vajradanti) Indian Almond Bedda nut Asian Holly Oak Prickly Ash Zanthoxylum alatum Sappan wood Catechu Bengal Madder Acacia arabica bark (Babul) Sarsaparilla Cinnamon Medlar bark Mayweed Bishop's weed (flower extract)] Silica Sodium Lauryl Sulfate (from Indian coconut oil) Carageenan (from seaweed) Cellulose (plant) gum Clove oil Peppermint oil Spearmint oil Eucalyptus oil Cinnamon bark oil Menthol Thymol Anethol.
QUESTIONS & ANSWERS
Have a Question?
Be the first to ask a question about this.
Ask a Question