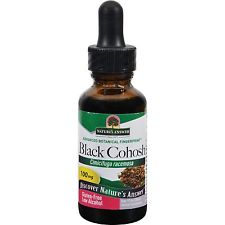 Bio Botanical Black Cohosh Ext 1oz
Black cohosh is an herb. The root of this herb is used for medicinal purposes. Black cohosh was first used for medicinal purposes by Native American Indians, who introduced it to European colonists. Black cohosh became a popular treatment for women's health issues in Europe in the mid-1950s.

Since that time, black cohosh has commonly been used to treat symptoms of menopause, premenstrual syndrome (PMS), painful menstruation, acne, weakened bones (osteoporosis), and for starting labor in pregnant women.

Black cohosh has also been tried for a lot of additional uses, such as anxiety, rheumatism, fever, sore throat, and cough, but it is not often used for these purposes these days.

Some people also apply black cohosh directly on the skin. This is because there was some thought that black cohosh would improve the skin's appearance. Similarly, people used black cohosh for other skin conditions such as acne, wart removal, and even the removal of moles, but this is seldom done anymore.
QUESTIONS & ANSWERS
Have a Question?
Be the first to ask a question about this.
Ask a Question