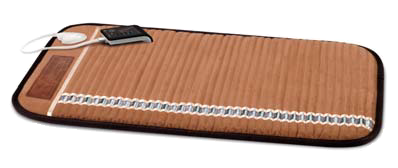 Bio Mat Mini Pad
Based on advanced scientific research

The BioMat Mini's unique medical and therapeutic properties are based on Nobel prize-winning research into ionic channels and the same infrared technology that NASA identified as the safest and most beneficial type of light wave. By producing deep-penetrating, far infrared rays along with negative ions, the BioMat is capable of administering deep stimulation and healing.
Superior medical and therapeutic results

The healing powers of the BioMat have been gaining converts all over the world. The BioMat Mini's unique design, which allows users to benefit from deep-penetrating infrared rays and an influx of negative ions, relaxes muscles and eases certain kinds of pain as shown by the US FDA's Medical Device 510K indications for use:

Relaxation of muscles
Increase of local circulation where applied
Temporary relief of:
Minor muscle pain
Minor joint pain and stiffness
Joint paint associated with arthritis
Muscle spasms
Minor sprains
Minor strains
Minor muscular back pain
Whether you're a health practitioner or a home user, you can now own your own BioMat Mini and enjoy unlimited access to the proven health benefits of the BioMat's far infrared rays, negative ion therapy and the superconducting properties of pure amethyst and black tourmaline.
QUESTIONS & ANSWERS
Have a Question?
Be the first to ask a question about this.
Ask a Question