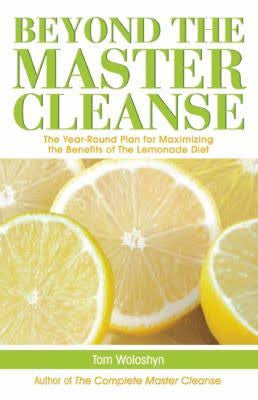 Beyond The Master Cleanse By Tom Woloshyn
EXPERIENCE THE BENEFITS OF THE MASTER CLEANSE EVERY DAY * Stay Toxin Free * Keep the Weight Off * Increase Energy * Improve Skin and Hair * Eliminate Allergies * Maintain a Healthy Colon Spending ten days on The Lemonade Diet is a proven way to transform your body and health. But if you return to your former unhealthy habits, you will quickly undo all you gained. With its comprehensive post-cleanse program, Beyond the Master Cleanse allows you to maintain and extend the Master Cleanse's amazing benefits. Beyond the Master Cleanse explains how to identify and overcome the most common difficulties you will encounter in your post-cleanse life. Drawing on the principles and power of The Lemonade Diet, this book's program offers an effective way to keep your body from sliding back into a toxic state. From easy parasite cleansing and tips for avoiding common toxins to overcoming addictions and transitioning to your new diet, Beyond the Master Cleanse shows how to continue the healthy transformation you started with your cleanse so that you can live a happier, healthier and more prosperous, abundant life.
QUESTIONS & ANSWERS
Have a Question?
Be the first to ask a question about this.
Ask a Question