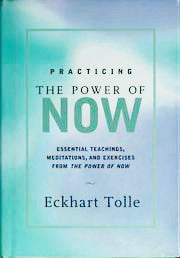 Practicing The Power Of Now
A collection of simple meditations and exercises helps readers heighten their consciousness of the present and live in the moment more completely.
Eckhart Tolle

Published 1999 by New World Library, Distributed to the trade by Publishers Group West in Novato, Calif, [Berkeley, CA] .
Written in English.
Table of Contents
Being and enlightenment 
The origin of fear 
Entering the now 
Dissolving unconsciousness 
Beauty arises in the stillness of your presence 
Dissolving the pain-body 
From addictive to enlightened relationships 
Acceptance of the now 
Transforming illness and suffering.

Classifications
Dewey Decimal Class
291.4/4, 204.4
Library of Congress
BL624 .T645 1999
The Physical Object
Pagination
142 p. ;
Number of pages
142
ID Numbers
Open Library
OL24749009M
Internet Archive
practicingpowero00toll
ISBN 10
1577311957
ISBN 13
9781577311959
LC Control Number
2001003028
OCLC/WorldCat
47081209
QUESTIONS & ANSWERS
Have a Question?
Be the first to ask a question about this.
Ask a Question