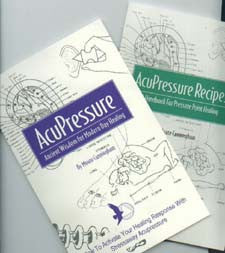 Acupressure: Ancient Wisdom/Modern
How to Activate Your Healing Response /
An Alternative to Medication and Surgery
This book includes a journey to wholeness that you may experience, Featuring pictorial explanations of the acupressure points that relate to the ten conditions most reported as problems in their research surveys. Included in this book are amazing pictures of how the ear acupuncture points, and the feet and hand acupuncture points are related to mappings of the body into the ear and into the feet.

From a mathematical viewpoint, Monte demonstrates beautiful 1-1 isomorphism.  From a layman's viewpoint, you will find amazing drawings that illustrate the acupressure
and reflexology principles that many are now discovering as they learn to find alternative solutions to reversing pain and health problems or simply becoming healthier individuals.
QUESTIONS & ANSWERS
Have a Question?
Be the first to ask a question about this.
Ask a Question