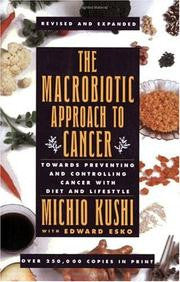 Macrobiotic Approach To Cancer
The revised and expanded edition of the book that started Dr. Anthony Sattilaro on his remarkable recovery from cancer, as reported in Life Magazine. Inside, Michio Kushi, founder of Macrobiotics in America, points the way toward a long-lasting solution to the problem of cancer. Also included are twelve moving personal stories of cancer victims who overcame illness through macrobiotics.

More than thirty-five years ago, Michio Kushi began saying that diet was a principle cause of cancer. He pointed out that a diet based on whole grains, sea and land vegetables, beans, and seasonal fruits could prevent, and in many cases, help reverse the process of cancer. In this edition of The Macrobiotic Approach to Cancer, Mr. Kushi details the macrobiotic diet and lifestyle that has helped thousands of individuals recover from illness and find better health and peace of mind.
QUESTIONS & ANSWERS
Have a Question?
Be the first to ask a question about this.
Ask a Question