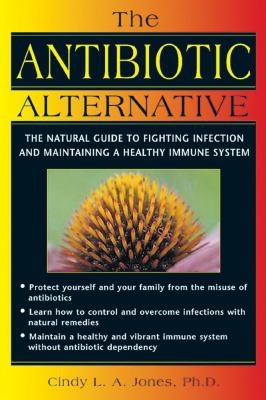 The Antibiotic Alternative : The Natural Guide to Fighting Infection and Maintaining a Healthy Immune System
Avoid the dangerous overuse of antibiotics by using natural herbal remedies to strengthen your own immune defenses. - Protect yourself and your family from the misuse of antibiotics. - Learn how to control and overcome infections with natural remedies. - Maintain a vibrant and healthy immune system without antibiotic dependency. When antibiotics were discovered they were hailed as the magic bullet that would put an end to the threat of infectious disease.

In fact, in 1969 the U.S. Surgeon General stated that "the war against infectious disease has been won." But in the last fifteen years we have faced an alarming increase in cases of bacterial infections that will not respond to antibiotics. What is more, the use of antibiotics in agricultural feeds and the widespread overprescription of antibiotics has deepened the threat of resistant bacteria to potentially epidemic proportions. Even when appropriately prescribed, antibiotics weaken the immune system by altering the body's natural bacterial balance. While antibiotics have their place in treating acute life-threatening conditions, "The Antibiotic Alternative" shows how the best defense against infectious disease is to strengthen your own immune system.

With advice on stress management and diet and complete monographs of a dozen readily available herbs, Dr. Jones shows you how to ward off infectious disease naturally without antibiotic overdependence. She provides directions for making herbal teas, salves, and tinctures and includes specific herbal recommendations for more than twenty common ailments ranging from acne to wound treatment.
Author: Cindy L. A. Jones
Year: 2000 Format: Paperback 248 pages
ISBN 13: 9780892818778 (978-0-89281-877-8)
ISBN: 0892818778 (0-89281-877-8)
QUESTIONS & ANSWERS
Have a Question?
Be the first to ask a question about this.
Ask a Question