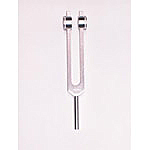 Planetary Tuner - .Pluto

Pluto - enhances our ability to face our deepest secrets and bring light to the darkness in our lives. Through Pluto we can let go of the old and bring rebirth and new beginnings.
Astrological Tuners can bring new dimensions to your astrology readings, enhance bodywork and acupuncture sessions, and can be used for personal meditation and growth.
Each Astrological Tuner is tuned to the frequency of a different planet and activates the different astrological qualities associated with that planet when played.

The Astrological Tuners work by creating a sympathetic resonance between the planets and ourselves thereby amplifying the effects of each planet in our lives. Listening to Astrological Tuners, or using them directly on the body, allow us to consciously direct the energy of each planet for healing and well-being.
QUESTIONS & ANSWERS
Have a Question?
Be the first to ask a question about this.
Ask a Question