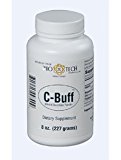 C-Buff (Biotech) 8oz.
Product Description
Vitamin C, also known as ascorbic acid, is an essential nutrient and powerful antioxidant that supports overall health.*
Vitamin C is required for the synthesis of connective tissues in blood vessels and bones, making it important for tissue repair following injury or surgery.*
Supplementation with vitamin C also supports immune system health and aids in the balance of normal histamine levels.*
C-Buff provides buffered vitamin C as a blend of fully-reacted mineral ascorbates, which are less acidic than ascorbic acid and are gentle on the digestive system.*
C-Buff powder is a convenient way to obtain large doses of vitamin C.*
Health Benefits
Essential nutrient and powerful antioxidant*
Supports immune system health and normal histamine levels*
Promotes tissue repair after injury or surgery*
Formulated with buffered vitamin C*
QUESTIONS & ANSWERS
Have a Question?
Be the first to ask a question about this.
Ask a Question