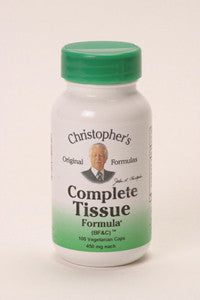 Complete Tissue & Bone- Bf&C (Dr. Christopher) 100 Caps
Natural Regenerative Formula for Healthy Bone, Flesh, & Cartilage Support
Formerly Known as BF&C
Try this formula in Capsules, Ointment, Syrup, Massage Oil, Hair Shampoo, Hair Conditioner, Fizzy Bath Bomb, Hair & Scalp Massage Oil, and Bar Soap forms.
Description: Used historically by natural healers and many herbalists to help regenerate healthy skin and connective tissue, healthy bones, healthy teeth & gums, healthy hair, skin and nails. (Primary use: internal, though it may be used externally). All encapsulated products are in a pure 100% vegetable based capsule.
Ingredients: White Oak Bark, Lungwort, Marshmallow Root, Mullein Leaf, Black Walnut Leaf, Gravel Root, Slippery Elm Bark, Wormwood Herb, Plantain Leaves, Lobelia Herb, Scullcap Herb & Aloe Vera 100:1.
Ailments traditionally used for:
Apoplexy
Arthritis (Gout)
Arthritis (Osteo)
Arthritis (Rheumatoid)
Athletic Performance
Atopic Dermatitis
Bee Stings
Black Eye
Bleeding
Boils
Bone Health
Breast Health
Bronchitis
Bright's Disease
Bruises
Burns
Bursitis
Carpal Tunnel Syndrome
Chicken Pox
Degenerative Joint Disease
Dermatitis
Dizziness
Dupuytren's Contracture
Eczema
Fragile Capillaries
Gangrene
Gout
Hernia
Herpes (Zoster)
Housemaid's Knee
Inflammation
Insect Stings
Intermittent Claudication
Itch
Neuralgia (Post)
Osteochondrosis (Tibial Tuberosity)
Piles
Psoriasis
Rheumatism
Shingles
Sport Supplements
Sprains
Stiffnecks
Strains
Stroke
Tumor
Ulcerative Colitis
Varicose Veins
Venous Insufficiency (Chronic)
Yellow Nail Syndrome
Directions: As a dietary supplement take 2 capsules 3 times a day or as directed by your health care professional.
QUESTIONS & ANSWERS
Have a Question?
Be the first to ask a question about this.
Ask a Question