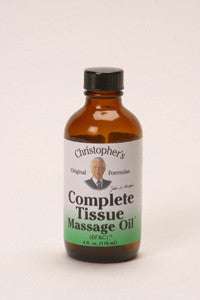 Bf&C Complete Tissue & Bone Massage Oil (Dr. Christopher) 4oz
A great therapeutic massage oil made from Dr Christophers famous BF&C formula containing over 10 synergistic herbs. The skin is the largest organ of the body and absorbs many nutrients that are applied topically.
Ingredients: Extra Virgin Olive Oil, Wheat Germ Oil, White Oak Bark, Comfrey Root, Mullein Leaf, Black Walnut Leaf, Marshmallow Root, Wormwood Herb, Lobelia Herb, Skullcap Herb & Gravel Root.
Ailments traditionally used for:
Apoplexy
Arthritis (Gout)
Arthritis (Osteo)
Arthritis (Rheumatoid)
Athletic Performance
Atopic Dermatitis
Bee Stings
Black Eye
Bleeding
Boils
Bone Health
Breast Health
Bronchitis
Bright's Disease
Bruises
Burns
Bursitis
Carpal Tunnel Syndrome
Chicken Pox
Degenerative Joint Disease
Dermatitis
Dizziness
Dupuytren's Contracture
Eczema
Fragile Capillaries
Gangrene
Gout
Hernia
Herpes (Zoster)
Housemaid's Knee
Inflammation
Insect Stings
Intermittent Claudication
Itch
Neuralgia (Post)
Osteochondrosis (Tibial Tuberosity)
Piles
Psoriasis
Rheumatism
Shingles
Sport Supplements
Sprains
Stiffnecks
Strains
Stroke
Tumor
Ulcerative Colitis
Varicose Veins
Venous Insufficiency (Chronic)
Yellow Nail Syndrome
Directions: Apply externally at least 6 times a day or as directed by your health care professional. This product works especially well followed by applying the Cayenne Heat Ointment or Cayenne Heat Massage Oil. Our customers tell us that this process drives the Complete Tissue Massage oil down deep for long lasting relief.
Dr. Christopher's Complete Tissue Formula (BF&C) formula is also available in the following forms:
Capsules
Ointment
Syrup
Massage Oil
Hair Shampoo
Hair Conditioner
Fizzy Bath Bomb
Hair & Scalp Massage Oil
Bar Soap
QUESTIONS & ANSWERS
Have a Question?
Be the first to ask a question about this.
Ask a Question