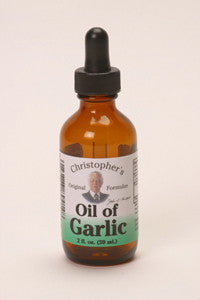 Oil Of Garlic (Dr. Christopher)
Natural Immune System & Infection Fighting Support

Description: Great for ear aches. Read more about the healing properties of Garlic.

Ingredients: Garlic Bulbs. In a base of extra virgin olive oil & tea tree oil.

Ailments traditionally used for:


Arterial Disease
Blood Pressure (High)
Candida Albicans
Cholesterol (High)
Common Cold
Gastric Ulcer
Gastritis
Glaucoma
Heart (General)
Heart (Mitral Valve Prolapse)
High Blood Pressure
High Cholesterol
High Homocysteine
High Triglycerides
Hypercholestermia
Hypertension
Influenza
Laryngitis
Lupus
Parasites And Worms
Piles
Sleeplessness
Sore Throat
Sport Supplements
Systemic Lupus Erythematosus (SLE)
Thrush
Upper Respiratory Infection
Yeast Infection

Directions: Apply externally as needed or as directed by your health care professional.

Orally: Shake Well. Take up to 1 full dropper 3 times a day. (or as often as needed.)
External: Shake Well. Apply externally as needed.
Ear applications: Shake Well. Always treat both ears. If only one ear is affected, treat the affected ear second. With the head tilted to one side, place approximately 6 drops of oil of garlic into the ear that is facing upward. Follow with 6 drops of Ear & Nerve Formula. Place a cotton ball into the ear to stop any leaking that occurs when returning the head to the upright position. Repeat procedure with the other ear.
For optimum results: Apply at least nightly to the ear for 6 nights a week, resting the 7th, until the ailment has cleared.
QUESTIONS & ANSWERS
Have a Question?
Be the first to ask a question about this.
Ask a Question