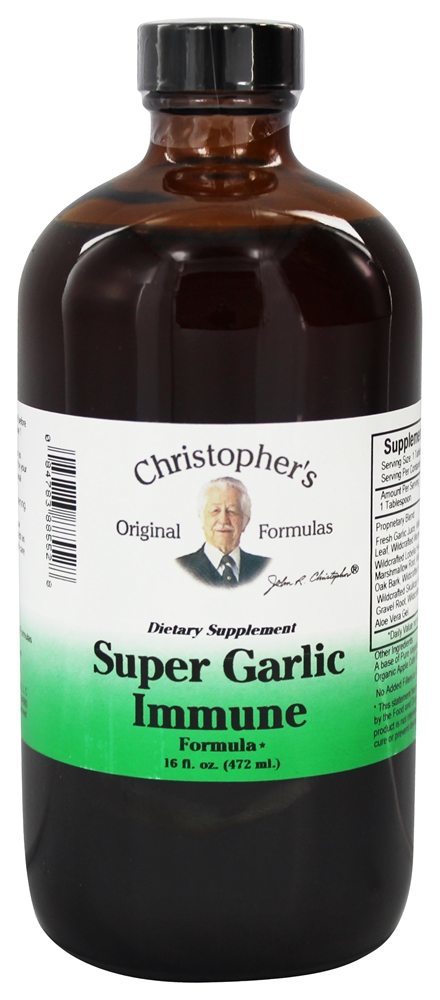 Super Garlic Immune (Dr. Christopher) 16oz
Immune System Support and Protection from Communicable and Diseases and Illnesses
Formerly known as Anti Plague or Anti-plage
Also available in glycerine extract form.
Description: This formula has been used historically for colds, flu and other infectious diseases. It contains some of nature's greatest natural antibiotics. Intuitively designed by Dr. John R. Christopher and being a synergistic blend of herbs, this formula helps to promote well being during times of colds and flu. Also available in glycerine extract form.
Ingredients: Fresh Garlic Juice, Mullein Leaf, Wormwood Herb, Lobelia Herb, Marshmallow Root, White Oak Bark, Black Walnut Leaf, Skull cap Herb, Gravel Root, Plantain Leaf, and Aloe Vera Gel in a pure vegetable glycerine, pure apple cider vinegar & Raw Honey.
Ailments traditionally used for:
Ague
Aids Support
Bacterial Infection
Common Cold
Flu
Immune System Function
Influenza
Pneumonia
Sore Throat
Tuberculosis
Typhoid
Upper Respiratory Infection
Yellow Fever
Directions: As a dietary supplement take 1 tablespoon a day as a tonic (preventative). In acute situations take 1 tablespoon every hour as needed or as directed by your health care professional.
QUESTIONS & ANSWERS
Have a Question?
Be the first to ask a question about this.
Ask a Question