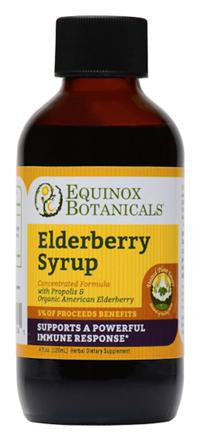 Elderberry Syrup (Equinox Botanicals) 4oz.
Our Elderberry Syrup harkens back to our "Folk Herbalist" roots. Borrowing from an old Appalachian recipe, we combine elder flower, yarrow, lemon balm, peppermint, slippery elm, and propolis with North American elderberry juice concentrate to create a syrup that is both nutritious and delicious. Early American settlers and American natives utilized American Elderberry for a variety of medicinal applications, particularly in the treatment of colds and flus. American Elderberry recently has begun to receive attention from scientists and herbalists who have found it to be loaded with vitamins, minerals and a class of polyphenols known as anthocyanins, an anti-oxidant pigment found in the blue-black berry. Research shows Elderberry's capacity to inhibit replication of 11 strains of influenza while increasing cytokine (immune-modulator) production. This potent formula showcases the medicinal properties of American Elderberry and provides powerful immune support.

Propierty Blend*: American Elder (Sambucus nigra canadensis) berry and flower, Slippery Elm (Ulmus fulva) bark, Yarrow (Achillea millefolium) flower, Lemon Balm (Melissa officinalis) leaf, Propolis (Apis mellifera) resin, Peppermint (Mentha piperata) leaf.

Other Ingredients: USP Grade Glycerine, Organic Tart Cherry Concentrate, Purified Spring Water, Honey, Brandy

*All herbs are either organically grown or ethically wildharvested.

Suggested Use: Adults: 1 teaspoon per day; Children under 50 lbs: 1/4 teaspoon per day; Children over 50 lbs: 1/2 teaspoon per day; Additional support: use 3-5 times daily, then return to normal use.
QUESTIONS & ANSWERS
Have a Question?
Be the first to ask a question about this.
Ask a Question