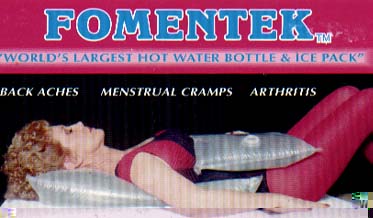 Fomentek Mini Water Bags (2 Bags) 9 inch by 15 inch
The Fomentek Bag is one of the most useful, general purpose health care products you will ever use. It is designed to apply comfortable, soothing thermal therapy easily and conveniently to any part of the body. Moreover, the Fomentek Bag alleviates the symptoms of variety of ailments and is effective (depending on the treatment) in warm or cold water.
TYPICAL HEAT APPLICATIONS
Back Pain 
Muscle Aches & Pains 
Joint Stiffness & Pain 
Cervical Strains 
Arthritis Pain 
Menstrual Cramps 
Muscle Spasms 
TMJ
TYPICAL COLD APPLICATIONS
Headaches 
Muscle Sprains 
Muscle Strains 
Sore Joints 
Swelling 
Bursitis 
Tendonitis 
Bruises 
Sunburn 
Fever Control
QUESTIONS & ANSWERS
Have a Question?
Be the first to ask a question about this.
Ask a Question