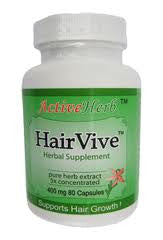 Hair Vive
HairVive contains no pharmaceuticals, no artificial colors, and no sugar. Heavy metal
contents are well in compliance with the standards set by US Pharmacopeia. It is manufactured
in USA in facility registered with FDA and in compliance with the strict GMP standards.
What's in it?

We are currently out of stock in this product, however we do carry Hair, Skin, and Nails by Purvana, which promotes thicker fuller hair, healthier skin, and stronger nails. It contains 30 fast release softgels which have 2500 mcg biotin per gel.

It also contains vitamin A, riboflavin, niacin, vitamin b6, folic acid, vitamin b12, biotin, pantothenic acid, MSM, DMAE bitartate, horse tail, alpha lipoic acid, and grape seed extract.