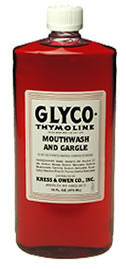 Glyco-Thymoline 16 oz
GLYCO
The original alkaline mouthwash
A proven antiseptic that eliminates bad breath
Fights mucosity
Soothes sore throat and tender gums
Fights gingivitis
Restores natural pH balance
Glyco-Thymoline is an alkaline cleansing solution primarily used as a mouthwash and gargle.

GlycoThymoline can be used as a spray, rinse or gargle, diluted or full strength, as often as desired.

What is Glyco-Thymoline?
A family tradition since 1894, Glyco-Thymoline (Glyco) is the original alkaline mouthwash and gargle. Glyco was developed by pharmacists to combat the adverse effects of the increasingly acidic diets associated with the American industrial era. For over a century, physicians and dentists around the world have recommended Glyco as an important part of a good oral health program. As an alkaline antiseptic, Glyco's unique formula combines the natural properties of eucalyptol, menthol, thymol and pine oil to produce a clean refreshing feeling. The oral health benefits of Glyco have withstood the test of time and include:

Kills germs and eliminates bad breath
The alkalinizing nature of Glyco reduces germs which fester in an acidic environment. As such, Glyco reduces oral acidity, kills germs and eliminates bad breath. The formula is unique in that it is not only an antiseptic, but an alkaline antiseptic or cleansing solution.

Prevents and fights gingivitis
The effectiveness of Glyco in reducing inflammation in the mouth became evident in the early 20th century as cited in several medical journals (eg. Wisconsin Medical Journal, 1904; Buffalo Medical Journal, 1905). The anti-inflammatory effects of Glyco make the product an excellent choice in the fight against gum disease, the most common being gingivitis. Gingivitis, or inflammation of the gums, is usually caused by bacterial plaque. Daily use of Glyco as part of an oral hygiene program, including brushing, flossing and regular professional cleanings, can both prevent and fight gingivitis.

Soothes tender gums and sore throats
Symptoms of gingivitis include swollen gums and sore mouths. Glyco is extremely gentle and soothing. Glyco has been called "The Great Throat Normalizer", reducing sore throats and soothing inflamed tonsils and tender gums. The glycerine in the mouthwash acts as a soothing balm to irritated membranes. In addition, Glyco contains approximately one fifth of the amount of alcohol than other leading brands of mouthwash. Thus, Glyco's formula is gentle enough for tender gums.

Reduces mucosity
Glyco has long been recognized as a product which reduces mucous. Originally described as "an ideal cleansing fluid of the correct specific gravity to promote osmosis, thus detaching mucous crusts and mucous", Glyco was once used as the exclusive product for eliminating mucosity by hundreds of physicians and throat and nose hospitals
QUESTIONS & ANSWERS
Have a Question?
Be the first to ask a question about this.
Ask a Question