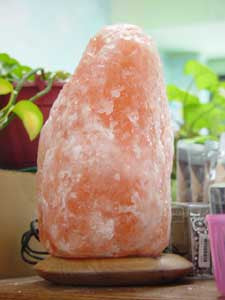 HIMALAYAN NATURAL SALT LAMP
Salt lamps are made from natural salt crystals. These lamps are sold as either natural chunks or shaped into spheres or pyramids. They are an attractive decoration and a unique gift. Salt lamps are said to provide health benefits to those who use them because they release negative ions into the air. Negative ions help remove odors and particles from the air, but even more intriguing is its effects on mood. Clinical studies have shown that high density negative ions are as effective as light therapy for Seasonal Affective Disorder (S.A.D.) and has even shown benefits for chronic and non-seasonal depressions. These lamps use a candelabra bulb.
QUESTIONS & ANSWERS
Have a Question?
Be the first to ask a question about this.
Ask a Question