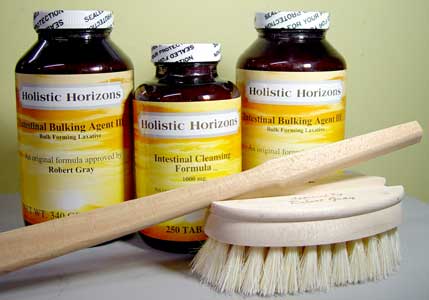 Complete Kit III (With Inulin) (Holistic Horizons)
One of the best colon cleanse programs available.
Complete Kit - w/Inulin includes;
5x HOL09 (INT BULK AGENT III INULIN)
1x HOL03 (250 CLEANSING TABS)
1x HOL02 (100 CLEANSING TABS)
1x HOL08 (LACTOBACTERIA III)
1x HOL04 (SKIN BRUSH)
1x BK081 (Colon Cleansing Handbook)
Instruction Pamphlet
SEE COMPLETE INSTRUCTIONS FOR USING THESE PRODUCTS
The Robert Gray Intestinal Cleansing Program
The key elements of the program:

There are three simple parts of the Robert Gray Intestinal Cleansing Program:

1. Intestinal Cleansing Formula consisting of an herbal mixture in tablet form
which you take one to four times per day;

2. Intestinal Bulking Agent which you also take one to four times a day;

3. About four to five minutes of skin brushing which you do once per day.

An advantage of this program is that you take everything into your body through your mouth, so you can cleanse not only your lower bowel, but your stomach and entire intestine as well.
QUESTIONS & ANSWERS
Have a Question?
Be the first to ask a question about this.
Ask a Question