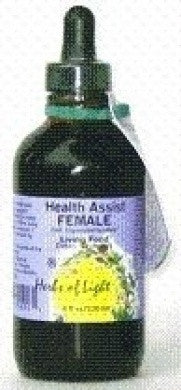 Health Assist Blend Female 120ml (Herbs Of Light)
This product is no longer available. Click here to view other immune boosting supplements for women.
Health Assist Female by Herbs of Light 120ml Liquid HEALTH ASSIST (Female) Contains Blood Lymph Blend Female Balance Blend Endless Energy Blend Immune Booster Blend. Actions This Blend helps the female body in carrying out its three most important activities in order to heal itself
1) Cleansing the toxicity by helping the liver with its blood filtration process along with assisting in lymph drainage
2) Promoting the body's ability in rebuilding and rebalancing its energies in order for the organs and glands to start working well again
3) Assist the rebuilding of the body's immune system. Dosage Shake Well. Take 4 squeezes (1 squeeze for each blend within this bottle) 3 times a day 6 days a week until the body no longer needs assistance....approximately 2 to 3 weeks after all symptoms stop communicating there's a problem.
Note It is greatly suggested that the lifestyle which created the loss of health be changed while integrating this blend within the new lifestyle change - See the Taking
QUESTIONS & ANSWERS
Have a Question?
Be the first to ask a question about this.
Ask a Question