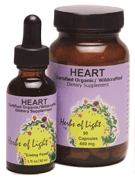 Heart 30ml (Herbs Of Light)
Product Information:
Certified Organic/Wildcrafted Guggul gum, Hawthorn berry, Ginkgo leaf, Ginseng (Siberian) root, Motherwort herb, Fenugreek seed, Ginger root, Prickly Ash bark, Virginia Snakeroot.

Actions:
Use for hardening of the arteries, valvular insufficiency, and irregular pulse. Good for both high and low blood pressure, arteriosclerosis, angina and inflammation of the heart. A valuable heart tonic.
Dosage:
Liquid: Shake well. Take 30-50 drops in water or juice up to 3 times a day, 6 days a week for a minimum of 3 months. Capsule: Take 1-3 capsules with meals up to three times a day, 6 days a week for a minimum of 3 months. Should be used with Cayenne extract

Notes:
If pregnant, consult a physician. Please consider watching their "Taking Responsibility" DVD Lecture along with reading Dr. Dean Ornish's book, "Reversing Heart Disease". Cayenne extract or capsules will help greatly in dilating or making larger the capillaries, arteries, veins and lymph. This lessens the pressure the heart has to create in getting blood circulation thru its tubes.
QUESTIONS & ANSWERS
Have a Question?
Be the first to ask a question about this.
Ask a Question