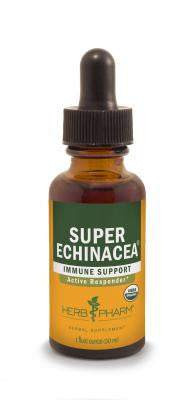 Super Echinacea (Herb Pharm)
Supports Healthy Function of the Immune System*
Ingredients:
Certified Organic extract blend:
Echinacea root (Echinacea purpurea) 1 2
Echinacea seed (Echinacea purpurea) 1 2
Echinacea leaf & flower (Echinacea purpurea) 1
(Contains no plant stem)
Additional Ingredients:
Certified organic cane alcohol & distilled water. Non-GMO & Gluten-Free
Potency:
Extraction rate 301-1,076 mg of fresh herb and 35-125 mg of dry herb per 0.7 ml
Description:
1 Certified Organically Grown
2 Fresh (undried)
For potent immune support* we blend the extracts of four distinct Echinacea purpurea plant parts to effectively capture the immunoactive compounds that each part contains.
Certified organic by Organic Certifiers.
Suggested Use:
Dilute drops in 2 oz. of water or juice. For standard use, take 1 full squeeze of the dropper bulb (0.7 ml) 2 to 5 times per day. For acute use, squeeze bulb 2 - 3 times to fill dropper and take up to 2 droppers full (about 1/2 tsp.) 5 times per day for 2 days, and then revert to standard dose. Best taken between meals.
Cautions:
Keep Out of the Reach of Children
UPC:
090800000331
QUESTIONS & ANSWERS
Have a Question?
Be the first to ask a question about this.
Ask a Question