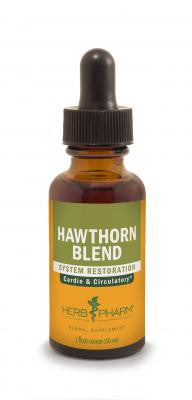 Hawthorn Blend 1 oz Herbal Extract - Herb Pharm
Promotes Healthy Heart & Circulatory Function*
Ingredients:
Proprietary extract blend:
Hawthorn leaf & flower (Crataegus spp.) 1 2
Hawthorn berry (Crataegus spp.) 2
Additional Ingredients:
Certified organic cane alcohol & distilled water. Non-GMO & Gluten-Free
Potency:
Dry herb / menstruum ratio: 1 : 5
Extraction rate 140 mg herb per 0.7 ml.
Description:
1 Certified Organically Grown
2 Sustainably Wildcrafted
By blending the leaf, flower & berry we produce an extract that is optimally concentrated in Hawthorn's bioactive compounds.
All of the herbs in this formula are individually extracted to ensure a broad spectrum of therapeutic plant compounds.
Suggested Use:
Shake Well Before Using
Add 1 full squeeze of the dropper bulb to 2 oz. of water or juice, 2 to 4 times per day. Best taken between meals.
Cautions:
Keep Out of the Reach of Children
UPC:
090700000684
QUESTIONS & ANSWERS
Have a Question?
Be the first to ask a question about this.
Ask a Question