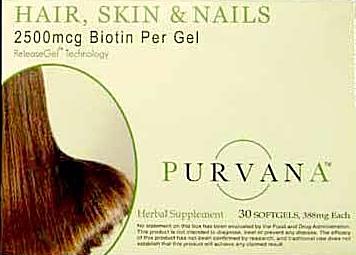 Purvana Hair, Skin & Nails 30 ct
The structures of the hair, skin , and nail tissue are very similar, requiring almost identical raw materials to grow and remain healthy. Collegen is the most abundant protein in the integumentary system, while elastin allows your skin to stretch like a spring and return to its original shape. These specialized proteins owe their unique properties to the sulfur bonds holding these tissues together. Because sulfur is so vital to their structure, we include a great source of organic sulfur, Methylsulfonylmethane (M.S.M.). We also include silicon to help overcome silicon's limited solubility and to better meet the need for silicon in supporting the structural integrity and healthy development of these vital tissues. PURVANA also provides Vitamins A (as Palmitate) and all of the B vitamins, and most importantly, very high levels of biotin because it is absolutely essential for the growth of healthy hair, skin, and nails.
Formulated With:
Biotin
DMAE
MSM
Folic Acid
Alpha Lipoic Acid
Grape Seed Extract
Vitamin A
Vitamin B
Vitamin C
Vitamin D
Silicon
QUESTIONS & ANSWERS
Have a Question?
Be the first to ask a question about this.
Ask a Question