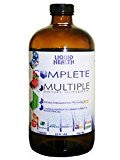 Complete Multiple (Liquid Health) 32oz


Liquid Health's Complete Multiple is our first all-inclusive complete daily liquid multivitamin. It has been reformulated to maintain its place at the forefront of liquid nutrition with a full list of liquid vitamins, minerals, and supplements to benefit your body. This complete multi liquid vitamin formula is one of the best liquid multivitamins on the market today.

• Completely soy free. Vitamin E from sunflower oil.
• Non-GMO
• Sugar-free
• All B-vitamins are now derived from methyl coenzyme forms or whole food based from organic, certified herbs
• Folic acid (folate) now 100% sourced from organic lemon peel
• The formula now has selenium from selenomethionine
• All minerals are from either plant origin or chelated for superior absorption
• New fiber blend sources all fiber from non-GMO prebiotic sources
• Increased amount of super phyto-food complex contains 10 Vegetables, 29 fruit extracts or concentrates, 12 spices and herbal extracts, 3 sea vegetables and ACTIValoe® aloe vera juice for a superior ORAC antioxidant and polyphenol content.
• Increased cardiovascular, liver and detox support now contains 100% natural TMG from USA-sourced sugar beets, red wine grape extracts, and resveratrol, among other herbs and supplements
• Youth and energy complex now contains Opti-MSM, Vegan glucosamine, HA, and Ayurvedic herbs
• Vegetarian amino acid complex from organic quinoa

Contains the highest quality ingredients. Eight blends and complexes, including NutraFlora® ScFOS prebiotic fiber, enhance the whole food based vitamins, minerals, enzymes, and amino acids in Liquid Health™ Complete. Liquid Health™ Complete Multiple is a great-tasting multivitamin liquid for the entire family.
QUESTIONS & ANSWERS
Have a Question?
Be the first to ask a question about this.
Ask a Question