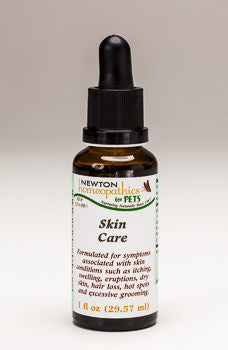 Pets - Skin Care (Newton)
Formulated for symptoms associated with skin conditions such as itching, swelling, eruptions, dry skin, hair loss, hot spots and excessive grooming.

Directions: Pets, under 50 lbs., give 3 drops by mouth (50 to 500 lbs. - 6 drops, over 500 lbs. - 1/2 teaspoon) as needed or as directed by a health professional. Place in mouth or purified water.
QUESTIONS & ANSWERS
Have a Question?
Be the first to ask a question about this.
Ask a Question