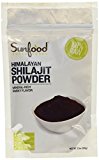 Shilajit Extract Powder, 50% Fulvic Acid 3.5oz (Sunfood)
Raw Shilajit Extract Powder
Shilajit's origin lies in the ancient organic plant material preserved in the dark crevices of the Himalayan Mountains. As the sun warms up the mountain and melts the snow, a soft, heavy resin seeps out and is collected by local farmers. This thick resin is then dried and ground into a fine powder known as shilajit, meaning "rock-invincible" in Sanskrit. It has a natural smoky flavor and is high in iron with important nutrients like fulvic acid, calcium, selenium and magnesium.
The Sunfood Difference™
Our Shilajit powder is meticulously harvested by hand at high altitudes to ensure the purest product possible. It is then low-temperature dried and tested to be free of pollutants. As a highly potent herb, our Shilajit Extract Powder's general serving requirements are minimal, so a small portion goes a long way.
For further reading, check out th
QUESTIONS & ANSWERS
Have a Question?
Be the first to ask a question about this.
Ask a Question