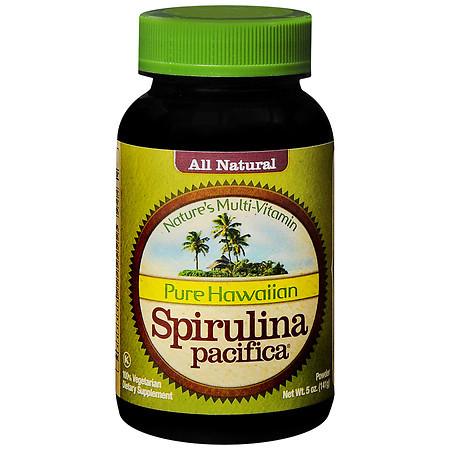 Nutrex Spirulina Pacifica Powder 5 oz
ORGANIC Nutrex Spirulina Pacifica Powder.
Spirulina has become a staple in many supplements ever since in early 1980s, as it is so rich in beta carotene, other nutrients, and protein. It is very fulfilling as it sustains us with nutrients, hence quenching our hunger. It's especially great for vegetarians...
ABOUT NUTREX SPIRULINA

Certified Organic / Pesticide free
No chemical fertilizers are used.
Nutrex is activley involved in worldwide organizations which promote sustainable organic agriculture.

Unique Spirulina Pacifica strain evolved in Hawaiian sun
Kona, Hawaii is the sunniest coastal location in the US.
Hawaii's intense sunshine promotes an abundance of phytonutrients.
Thousands of generations of Spiruliina in Hawaii have given birth to a unique,
beat carotene-rich strain known as Spirulina Pacifica.

Ocean Source Minerals and Trace Elements
From a depth of 2000 feet, they bring ultra pure ocean water up and feed it directly to their ponds.
This vital resource provides a rich mixture of calcium, magnesium and trace elements -
92 different minerals in all.

Patented Ocean-Chill Drying
Ocean Chill Drying insures a superior carotene profile,
reducing by 80% the losses normally associated with drying.

Glass packaging - not plastic
Glass prevents oxygen of key nutrients.
(#2 plastic readily leaks oxygen)
Glass prevents the impairment of the fresh Spirulina taste &
the destruction of key antioxidant nutrients like beta carotene caused by oxidation.
QUESTIONS & ANSWERS
Have a Question?
Be the first to ask a question about this.
Ask a Question