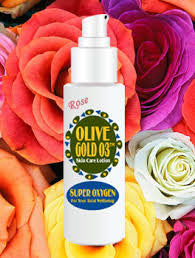 OLIVE GOLD 03 ROSE SCENT
What is olive gold?

Olive Gold 03 is a perfect proprietary blend of SUPER OXYGEN, in an all natural organic olive oil base, with super-charged vitamins (A, B's, C, D, & E), 72 minerals, alpha-lipoic acid, Exotic Botanical Essence and fragrance. OG3 inherently is hypoallergenic.
Nothing harmful to humans or animals can live in it. Contains no: corn, sugar, soy, starch, wheat, yeast, preservatives, synthetics, or GMO derived sources known. OG3 is Multi-Purpose lotion for health and beauty which may help:
Provide more energy to muscles (ozone/oxygen content) resulting in greater performance and less pain, brain function for mental clarity, abundant oxygen to enrich the blood,
Enhance metabolism, allowing better digestion and detoxification
Neutralize pathogens, bacteria, viruses fungus and chemicals and Provide a healthy younger looking skin!
How many oz

Hi there, you have the choice of 2oz bottle. Our 4oz bottle can be found in a separate listing here: https://www.momentum98naturalhealthstore.com/products/olive-gold-03-rose-scent-4oz?_pos=5&_sid=f0def6fd3&_ss=r