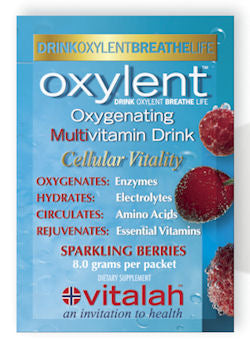 Oxylent - Sparkling Blackberry
OXYGENATES: The enzymes, SOD and catalase, work together to promote the conversion of toxins into beneficial oxygen and water, enhancing cellular oxygenation.

HYDRATES: Important electrolytes control the balance of fluid in the body. They are also important for muscle and nerve function, blood pressure, movement of nutrients into the cells, and the removal of waste
product from the cells.

CIRCULATES: The amino acid, L-Arginine, promotes healthy blood flow, which significantly improves circulation.

REJUVENATES: A full range of B vitamins support adrenal health and immune and nervous systems5. Powerful antioxidants, CoQ10, vitamin C, and bioflavonoids, are also included. 1000 I.U.s natural vitamin D3 supports bone and heart health

Oxylent is a high quality, great-tasting, daily multivitamin effervescent that can be mixed with water for a refreshing and nutritious daily drink. Oxylent comes in three delicious flavors. The effervescent delivery system offers nearly 100% immediate absorption of vital nutrients and is gluten, caffeine, lactose and preservative free.
QUESTIONS & ANSWERS
Have a Question?
Be the first to ask a question about this.
Ask a Question