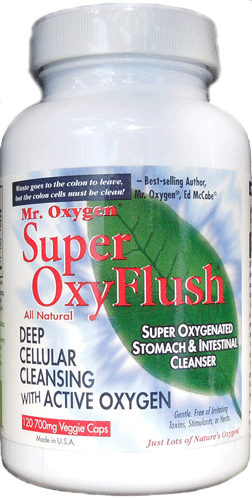 Super Oxy Flush 120 Caps
Your body takes this and can use it to do its own complete stomach, intestinal and bowel flushing, sanitation and oxygenation that we all used to only dream about!

70 % of your body's immune system is in the intestines. Keep your intestines healthy and clean with this perfectly formulated intestine and colon cleanse. What seperates this colon cleanse from all the others is that it also oxygenates your body. This helps not only your colon but ALL your body's cells.

SuperOxyflush uses nature's own mechanism for oxygen transport, including magnesium based oxides and special propietary ozonides. This is similar to the same way a plant moves oxygen around and this surplus exygen will help your body flush away toxins.
QUESTIONS & ANSWERS
Have a Question?
Be the first to ask a question about this.
Ask a Question