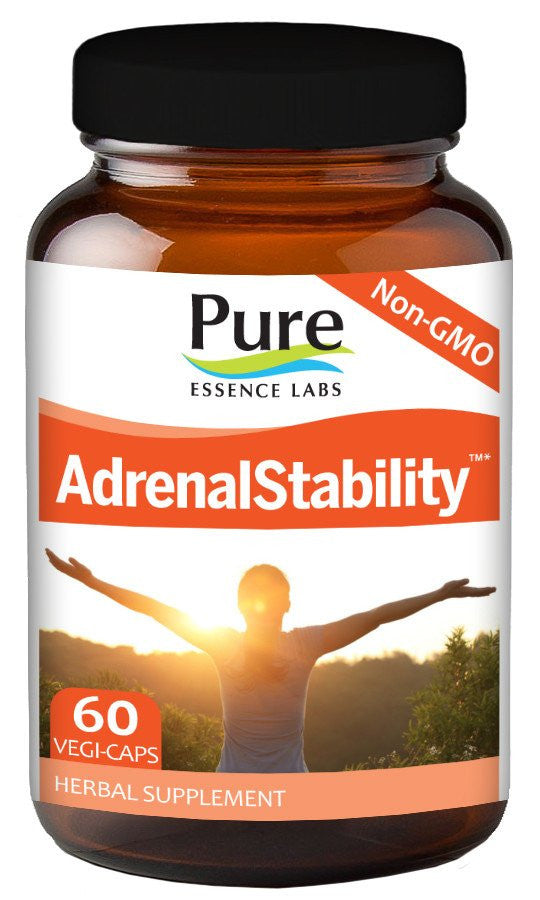 Adrenal Essence (Pure Essence Labs) 30 Ct.
The high stress nature of the modern world can cause the adrenals to work at a nearly constant level. This can lead to what many natural health practitioners label, "Adrenal Fatigue."
Adrenal fatigue may contribute to such things as lack of energy, fatigue, occasional difficulty in sleeping, and decreased libido. Solutions include avoiding stress, employing relaxation techniques, eliminating factors that trigger adrenal response (like sugars, caffeine, alcohol, tobacco, and recreational drugs), and getting plenty of whole, healthy nutrition.
Holistic health sciences, like Traditional Chinese Medicine and Ayurveda have long used botanicals like holy basil, rhodiola, cordyceps, ashwagandha, schizandra and eleuthero as nutritional support for the adrenal glands. AdrenalStability™ combines these nutritious plants into an amazing formula. The holy basil is extracted by a proprietary process that retains both the water and soluble fractions. The rhodiola comes directly from Siberia, and is one of only two legitimate Siberian products on the market.*
AdrenalStability™ not only employs the plants that the world's foremost holistic science have used for this purpose for thousands of years, but utilizes the purest, cleanest sources available.*
Ingredients
Ashwagandha extract,cellulose,Cordyceps extract,Eleuthero extract,Holy basil extact (leaf),l-leucine,Rhodiola extract,Schizandra extract,silicon dioxide.
*This product does not contain artificial colorings or flavorings, GMOs, dairy, gluten, or wheat and is suitable for vegetarians.
QUESTIONS & ANSWERS
Have a Question?
Be the first to ask a question about this.
Ask a Question