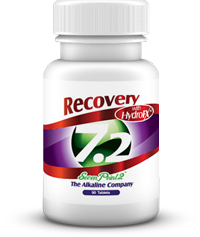 Recovery with HydroFX(7.2)
These tablets are a blend of body alkalizing minerals selected for particular forms which are the most alkalizing. This includes HydroFX which produces molecular hydrogen in the body and creates an alkaline environment. 
This supplement can help with alkalizing the body and has many benefits, including;
Neuro-protective
Cardio-protective
Intestinal protective
Skin Rejuvenation
Anti-aging
Reduced joint discomfort
Increased Energy
7.2 Recovery has been clinically tested to increase cellular hydration by increasing the body's ability to move water into the cell. 
What are the ingredients

Calcium(as Calcium Hydrogen Phosphate Dihydrate) 100MG

Magnesium(from HydroFX Blend) 68mg

HydroFX Blend(Magnesium and Magnesium Carbonate blend) 188 mg

 

Other ingredients: Microcrystalline cellulose, magnesium stearate, silicon dioxide