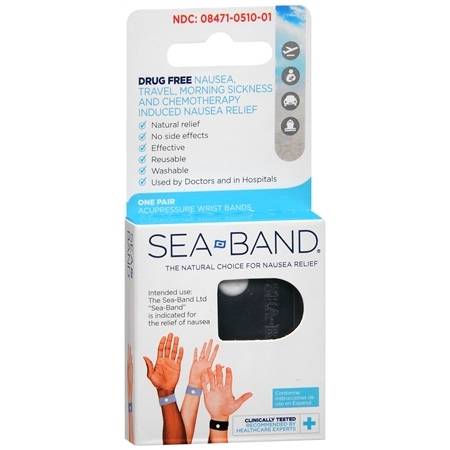 Sea Bands Black or Grey Adult
Sea Bands are for people who like to travel, but who have problems with nausea, etc.

Certain acupuncture points when pressed can alleviate that problem.
By constantly hold down a particular point on the acupressure meridians,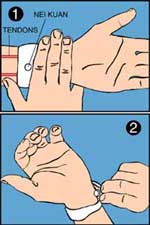 the pain or discomfort can immediately go away or simply disappear.

Click to learn more about Acupressure: https://www.momentum98.com/acuki.html

The dilemma is that we can't apply consist pressure on certain points! After all, we need our hands for all the time. Well, some brilliant Englishman came up with the Sea Band... and they work!
Sea Bands for Morning Sickness:
Sea Band has proven effective in clinical trials for the relief of Morning Sickness and because it doesn't use drugs, there are no side effects.

Sea Bands for Travel Sickness:
Sea Band provides effective relief from all forms of Travel Sickness without causing drowsiness or other side effects.

Sea Bands for other sickness:
Sea Band has also been found to be effective in other conditions that produce nausea such as anesthesia and chemotherapy
and are used in hospitals throughout the world. The Sea Band operates by using acupressure: https://www.momentum98.com/acuki.html

The bands can be put onto your wrists before you start traveling, or after you have started your journey.

We also recommend using Ginger for travel sickness, as it complements the healing of the Sea Bands.
QUESTIONS & ANSWERS
Have a Question?
Be the first to ask a question about this.
Ask a Question