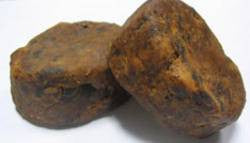 100% African Black Soap
This is the large 10 oz size.
African Black Soap is made with virgin palm kernel oil, residues from making unrefined shea butter, and plantain leaf ashes.
The shea butter residue adds the base necessary to saponify the virgin palm kernel oil. All of ingredients are simple and natural.
The soap-making process is highly sophisticated, and requires hand-stirring for at least a day. After the soap has crystallized,
it is allowed to cure for two weeks.

Uses of African Black Soap

African Black Soap is an excellent all purpose soap. It is recommend especially for individuals with sensitive skin. It is known for making smooth skin, and is also used to treat skin irritations, acne, and other skin conditions. Black soap can be formed into bars or balls with pressure. As soon as you begin using the soap, the contact with water will make it keep its shape. Also, you can make a liquid soap by filling a container loosely with the black soap and adding water to fill. The soap pieces will dissolve into the water and form a versatile liquid soap. Finally, although the odor of our African black soap is very mild and pleasant, you can add essential oils to create your own fragrances.

Black soap in Africa is the only soap used by mothers to wash their newborn babies, as its purity makes it gentle and non-drying for their sensitive skin. Black soap is produced in small batches by hand, using age-old traditional techniques. Authentic African black
soap is made in Togo from pure virgin oils following fair trade and organic guidelines. The ingredients of African black soap are virgin palm kernel oil, pure, unrefined shea butter and potash produced from the ashes of plantain leaves and bark from a local tree called Agow. The high percentage of shea butter (48%) is one of the unique features of the soap.
In addition, there are no chemicals added as preservatives, color enhancers, or fragrances.
QUESTIONS & ANSWERS
Have a Question?
Be the first to ask a question about this.
Ask a Question