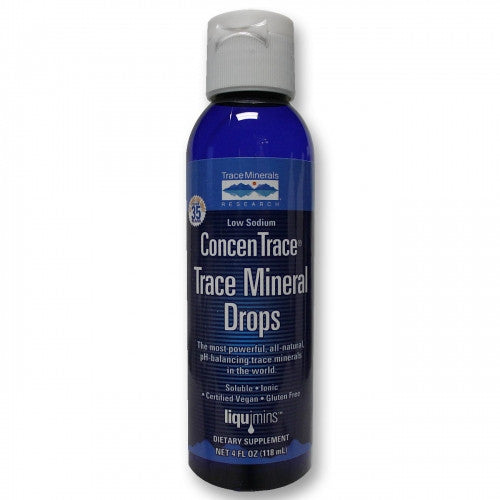 Concentrace Trace Mineral Drops (Trace Minerals) 4oz.
Low sodium ConcenTrace® Trace Mineral Drops are the most powerful natural health mineral supplements in the world.

The Most Powerful, Natural, Health Giving Trace Minerals in the World.
Formulated by Nature for Greater Bio Health and Body Mineral Balancing.
From Utah's Inland Sea -- Soluble · Liquid · Ionic
Low sodium ConcenTrace® Trace Mineral Drops (or tablets) are the most powerful natural health mineral supplements in the world. It's impossible to underestimate the importance of minerals and trace minerals for the human body. They are the catalysts for all the vitamins and other nutrients your body uses for developing and maintaining good health. ConcenTrace® captures the perfect balance of those minerals. Using ConcenTrace® every day (mix with juice, food or remineralize purified water) will help conduct and generate your body's entire electrical system. You'll have more energy and will generally feel better.
Why is ConcenTrace® so powerful? coming from the Great Salt Lake, ConcenTrace® contains the full spectrum of all the minerals in a balance natural to the body. We use a completely natural process that removes the sodium and gives us a formula about 26 times more concentrated than any other liquid trace minerals on the market. ConcenTrace® Mineral Drops or ConcenTrace® Tablets.
No other health supplement is as naturally powerful.

Bone and Joint Health
Taken as directed, many people have experienced dramatic results in improving and strengthening bones, joints and teeth, and eliminating unwanted calcium deposits

Re-Mineralize Distilled Water
¼ - ½ Teaspoonful per gallon, for a fresh, spring water taste.

Increase Energy, Vitality, and Improve Health
By replacing and balancing the soluble minerals in the body fluids soluble minerals are the electrolytes which conduct the body's electrical energies.

Helps Normalize Bowel Function

Add to Carbonated Beverages
A study has shown that a few drops per glass mineral balances soda pop to greatly reduce the potentially harmful effects of carbonation.

Hair and Skin
Use internally to nourish from within, externally as a rub. (very concentrated, must be diluted- keep out of eyes or areas of broken skin unless highly diluted).

Magnesium Supplement
One of the highest quality, least expensive, most assimilable magnesium supplements on the market.

1/2 teaspoon supplies the following:
Minerals: %USRDA*
Magnesium 250 mg. 62%*
Chloride 680 mg. **
Sulfate 75 mg. **
Potassium 5 mg. **
Sodium 4.5 mg. **
Lithium 1.0 mg. **
Plus the following in naturally occurring varying trace amounts; Calcium, Carbonate, Bromide, Fluoride, Iodine, Rubidium, Scandium, Boron, Phosphorus, Nickel, Manganese, Chromium, Strontium, Cobalt, Zinc, Titanium, Lanthanum, Cerium, Barium, Copper, Iron, Silicon, Yttrium, Molybdenum, Tin, Gallium, Gold, Silver, Cesium, Beryllium, Selenium, Vanadium, Dysprosium, Holmium, Terbium, Praseodymium, Lutetium, Gadolinium, Samarium, Bismuth, Ytterbium, Erbium, Europium, Neodymium. Plus the other minerals found in sea water.
Due to the purity and concentration of this product, it has no expiration date. Because of the minerals, it is naturally preserved and contains no bacterial growth. The minerals do not lose potency over time. Minor crystallization may occur, but does not affect the quality of the product.
Trace Mineral Drops
QUESTIONS & ANSWERS
Have a Question?
Be the first to ask a question about this.
Ask a Question