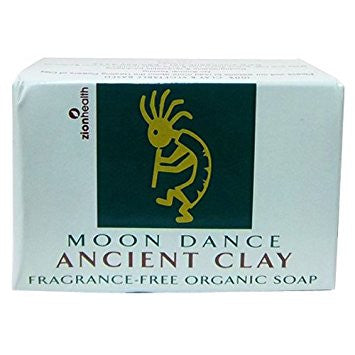 Ancient Clay Soap - Moon Dance 6oz bar - Zion Health
This is a fragrance-free natural soap. This soap is 100% clay and vegetable based, and is not tested on animals. It's made with high-quality desert clay and food-grade (edible) coconut & palm oil. The main use for Ancient Desert Clay Soap is to naturally restore energy back to your skin.
A note from Zion Health:
Ancient Clay Soap for Sensitive Skin – Moon Dance 6 oz 
Moon Dance is our mildest soap and is completely fragrance free for sensitive skin. 
Ingredient Benefits:
• Ionic Minerals (Pure Calcium Montmorillonite Clay) contains more
than 57 trace minerals to help stimulate skin cell renewal.
• Shea Butter is full of vitamins and fatty acids to help nourish and
• Coconut oil is rich in nutrients to help prevent dry skin.
•100% Frangrance Free •  100% Vegan •  No Sulfates •  No Parabens •  Gluten Free 
Ingredients: Calcium Montmorillonite Clay (Kanwa), Shea Butter, Edible Coconut and Olive Oil. 
Vegan, Gluten Free, Fragrance Free
QUESTIONS & ANSWERS
Have a Question?
Be the first to ask a question about this.
Ask a Question