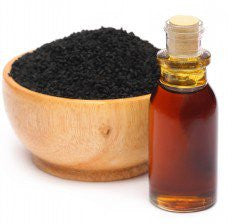 An ancient remedy that has been in use for over 2000 years, black cumin seed, also known simply as black seed is an immune boosting remedy(study) that has been used for asthma, infections, eczema, headaches, diabetes, hypertension and coughs.
Black seed contains a natural chemical called Thymoquinone which is a large part of the bio-active components of the essential oil.
In traditional medicine it is used to stimulate the body's own "healing energy" to build resistance to illness and recover from fatigue. 
Black seed has been tested to inhibit the growth of staph bacteria was well as gram-negative bacteria.(R)(R)
Black Cumin oil is also a potent antioxidant, anti-inflammatory and anti-histamine. Studies have shown that the Thymoquinone in black seed inhibits inflammatory cytokines.(R) 
Black Cumin seed has been traditionally used as a remedy for diabetes. A study showed that an extract of black seed was able to lower blood sugar.(R) 
Some of the other health benefits of black cumin seed is that it is neuro-protective, it can have a anti-seizure effect, it can protect from ionizing radiation and can help people with opioid addictions.
Black seed also has anti-anxiety and anti-depressant properties.
Studies on black seed have also shown it can assist in weight loss in men with obesity.(R)
As you can see, this is a potent and versatile natural medicinal seed. Click here to view available formulas online.